WISCONSIN
Your complete directory of Wisconsin candidates for Governor, State Cabinet, United State Senator and Congress in the current election cycle ... state political parties ... the official state election office ... and state news sources.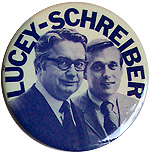 ELECTION CALENDAR:
Filing Deadline: June 1, 2022
Primary: August 9, 2022
CANDIDATE DIRECTORY LEGEND:
Bold = Active Candidate
Italics = Potential Candidate
* = Incumbent
= Winner
(Incumbent Party Listed First)
This page was last updated on September 4, 2022
---
STATE CONSTITUTIONAL OFFICERS:
GOVERNOR & LIEUTENANT GOVERNOR:
(Note: Governor & Lt. Governor candidates run together on tickets in the general election.)
Tony Evers (D)* - (Campaign Site)
& Sara Rodriguez (D) - State Rep., Healthcare Executive, Nurse & Peace Corps Veteran

Tim Michels (R) - Construction Executive, Army Veteran & '04 US Sen Nominee
& Roger Roth (R) - State Sen., Ex-Senate President, Ex-State Rep. & Iraq War Veteran

Joan Beglinger (I) - Withdrew, but name remains on ballot.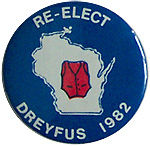 Next State Constitutional Officer Elections in 2022.
ATTORNEY GENERAL:
Josh Kaul (D)* - (Campaign Site)
Eric Toney (R) - Fond du Lac County District Attorney
SECRETARY OF STATE:
Doug LaFollette (D)* - (Campaign Site)
Amy Loudenbeck (R) - State Rep., Ex-Environmental Consultant & Ex-Volunteer Firefighter
Sharyl McFarland (G) - Community Organizer & Social Justice Activist
Neil Harmon (L) - State Party Vice Chair & Pharmacy Technician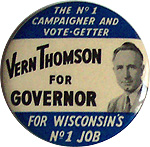 STATE TREASURER:
[ Sarah Godlewski (D)* - Lost Primary for US Senate in 2022. ]
Aaron Richardson (D) - Fitchburg Mayor & Ex-City Councilman
John Leiber (R) - Attorney & '18 St Rep Candidate
Andrew Zuelke (C) - State Party Chair, Factory Worker & '14/'18 Nominee
2025 Election:
STATE SUPERINTENDENT OF PUBLIC INSTRUCTION:
(Note: Superintendent is a non-partisan post.)
Jill Underly (D)* - (Campaign Site)
---
STATE LEGISLATURE:
State Assembly
- ( Republican Caucus - Democratic Caucus )
State Senate
- ( Republican Caucus - Democratic Caucus )
---
U.S. SENATOR:
Ron Johnson (R)* - (Campaign Site)
Mandela Barnes (D) - Lt Governor, Ex-State Rep. & Policy Analyst
Samuel D'Amico (WI) - Nuclear Engineer & Law School Student
Patrick Whitcomb (WI)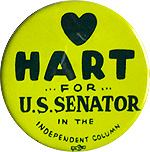 Tammy Baldwin (D)* - (Campaign Site) - Next Election in 2024.
Eric Hovde (R) - Venture Capitalist, Conservative Activist & '12 Candidate
Robin Vos (R) - State Assembly Speaker, Ex-Racine County Supervisor & Businessman
---
U.S. CONGRESS:
District 1:
Bryan Steil (R)* - (Campaign Site)
Ann Roe (D) - Businesswoman & Community Activist
Charles Barman (I) - Retired Construction Superintendent, Farmer & Frequent Candidate
District 2:
Mark Pocan (D)* - (Campaign Site)
Erik Olsen (R) - Attorney
Douglas Alexander (I) - Teacher, Account Executive & Navy Veteran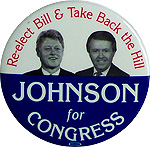 District 3:
[ Ron Kind (D)* - Retiring in 2022. ]
Brad Pfaff (D) - State Sen., Ex-USDA Official & Ex-Congressional Aide
Derrick Van Orden (R) - Retired Navy SEAL, Afghan/Iraq War Veteran & '20 Nominee
Rustin Provance (L) - HVAC Technician & Felon
District 4:
Gwen Moore (D)* - (Campaign Site)
Tim Rogers (R) - Delivery Driver & '18/'20 Nominee
Robert Raymond (I) - Paralegal, Conservative Activist & Frequent Candidate
District 5:
Scott Fitzgerald (R)* - (Campaign Site)
Mike Van Someren (D) - Attorney & Community Activist
District 6:
Glenn Grothman (R)* - (Campaign Site)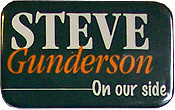 District 7:
Tom Tiffany (R)* - (Campaign Site)
Dick Ausman (D) - Businessman
District 8:
Mike Gallagher (R)* - (Campaign Site)
Jacob VandenPlas (L) - Farmer & Diasbled Iraq War Veteran
Paul Boucher (I) - Researcher & Frequent Candidate
---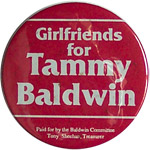 STATE POLITICAL PARTIES:
Constitution Party of Wisconsin (C)
Democratic Party of Wisconsin (D)
Wisconsin Green Party (G)
Libertarian Party of Wisconsin (L)
Pirate Party of Wisconsin (PP)
Wisconsin Republican Party (R)
---
STATE ELECTION OFFICE:
Wisconsin Elections Commission

Wisconsin Ethics Commission (Campaign Finance)
---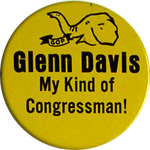 STATE NEWS SOURCES:
Appleton Post-Crescent
Ashland Daily Press
Beloit Daily News
Chippewa Herald
CNI Newspapers (23 suburban Milwaukee newspapers)
Eau Claire Leader-Telegram
Fond du Lac Reporter
Green Bay News-Chronicle
Green Bay Press-Gazette
Janesville Gazette
Kenosha News
LaCrosse Tribune
Madison Capital Times
Manitowoc Herald Times Reporter
Madison Isthmus (Alternative)
Marshfield News-Herald
Milwaukee Journal Sentinel (Politics Blog)
Greater Milwaukee Today
Oshkosh Northwestern
Racine Journal Times
Right Wisconsin
Sheboygan Press
Stevens Point Journal
Superior Daily Telegram
Watertown Daily Times
Wausau Daily Herald
The Wheeler Report (Politics)
WISC TV-3 (CBS - Madison) / Channel 3000
Wisconsin Election Watch
Wisconsin Rapids Daily Tribune
Wisconsin State Journal (Madison)
WisconsinVote.org
WisInfo.com
WisPolitics.com
Wisconsin Radio Network
WFRV TV-5 (CBS - Green Bay)
WKOW TV-27 (ABC - Madison)
HELP MAKE POLITICS1 COMPLETE!! IF YOU KNOW OF A CANDIDATE MISSING FROM OUR LISTS, PLEASE .