U.S. VIRGIN ISLANDS
Your complete directory of U.S. Virgin Islands candidates for Governor and Congress in the current election cycle ... territorial political parties ... the official government site ... and USVI news sources.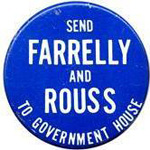 ELECTION CALENDAR:
Filing Deadline (Major Parties): May 17, 2022
Primary: August 6, 2022
Gubernatorial Runoff (if needed): November 22, 2022
CANDIDATE DIRECTORY LEGEND:
Bold = Active Candidate
Italics = Potential Candidate
* = Incumbent
= Winner
(Incumbent Party Listed First)
This page was last updated on August 8, 2022
---
TERRITORIAL CONSTITUTIONAL OFFICERS:
GOVERNOR AND LIEUTENANT GOVERNOR:
(Governor & Lt. Governor candidates run together on tickets)
Albert Bryan Jr. (D)* - (Campaign Site)
& Tregenza Roach (D)* - (Campaign Site)

Stephen "Smokey" Frett (ICM) - Ex-Senator & Frequent Candidate
& Gregory "Brother" Miller Jr. (ICM)

Ron Pickard (I) - Ex-Police Officer & Felon
& Elroy Turnbull (I) - Taxi Driver & Commercial Fisherman

Kurt Vialet (I) - Senator & Retired Educator
& Janelle Sarauw (I) - Senator, Ex-Educator & Ex-Legislative Researcher
Next Gubernatorial Elections in 2022
---
TERRITORIAL LEGISLATURE:

USVI Legislature
---
U.S. CONGRESSIONAL DELEGATE:
Stacey Plaskett (D)* - (Campaign Site)
---
USVI POLITICAL PARTIES:
Virgin Islands Democratic Party (D)
Independent Citizens' Movement (ICM)
Virgin Islands Republican Party (R)
Independent (I)
---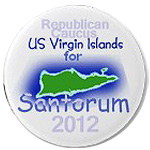 LOCAL NEWS SOURCES:
St. Croix Source
St. John Source
St. John Tradewinds News
St. Thomas Source
V.I. Consortium
Virgin Islands Daily News
WSTA Radio (St. Thomas)
WTJX TV-12 (Public Television - St. Thomas)
HELP MAKE POLITICS1 COMPLETE!! IF YOU KNOW OF A CANDIDATE MISSING FROM OUR LISTS, PLEASE .