PUERTO RICO
Your complete directory of Commonwealth of Puerto Rico candidates for Governor and Congress in the current election cycle ... Puerto Rican political parties ... the official government site ... and Puerto Rican news sources.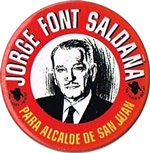 ELECTION CALENDAR:
Filing Deadline: December 2023
Primary: August 2024
CANDIDATE DIRECTORY LEGEND:
Bold = Active Candidate
Italics = Potential Candidate
* = Incumbent
= Winner
(Incumbent Party Listed First)
This page was last updated on February 25, 2023
---
GOVERNOR / GOBERNADOR:
Pedro Pierluisi (PNP)* - (Campaign Site)
Jose Luis Dalmau (PPD) - Senate President, PPD President & Attorney
Carmen Maldonado (PPD) - Morovis Mayor, PPD Vice President & Educator
Juan Zaragoza (PPD) - Senator, Ex-Treasury Secretary & Accountant
Juan Dalmau (PIP/AP) - Ex-Senator, Attorney & '20 Nominee
Cesar Vazquez (PROY) - Physician & '20 Nominee
Next Gubernatorial Elections in 2024
---
Legislature / Asamblea Legislativa de Puerto Rico:

House of Representatives / Cámara de Representantes
---
U.S. RESIDENT COMMISSIONER:
(Comisionado Residente Washington)

Jenniffer González-Colón (PNP)* - (Campaign Site)
Pablo Jose Hernandez Rivera (PPD) - Attorney & Ex-Gubernatorial Aide
Ada Norah Henriquez (PROY) - Attorney, Businesswoman & '20 Candidate
Arnaldo Claudio (I) - Retired Army Colonel, Security Consultant & Iraq War Veteran
Next Resident Commissioner Election in 2024.
---
POLITICAL PARTIES:
AP - Alianza de País (Country Alliance - PIP/MVC Coalition)
MDC - Movimiento de Conciencia (Consciousness Movement)
MVC - Movimiento Victoria Ciudadana (Citizens Victory Movement)
PIP - Partido Independentista Puertoriqueño (Puerto Rican Independence Party)
PNP - Partido Nuevo Progresista (New Progressive Party)
PPD - Partido Popular Democrático (Popular Democratic Party)
PROY - Proyecto Dignidad (Dignity Project)
I - Independiente / Independent / No Party
---
National Democratic Party of Puerto Rico / El Partido Democrático de Puerto Rico
National Republican Party of Puerto Rico / El Partido Republicano de Puerto Rico
---
COMMONWEALTH ELECTION OFFICE:
Election Commission / Comisión Estatal de Elecciones de Puerto Rico (CEEPUR)
---
ISLAND NEWS SOURCES:
CPI: Centro de Periodismo Investigativo
El Expresso de Puerto Rico
El Nuevo Día
Pasquines (US Territorial News)
Primera Hora
Red Betances (Marxist)
StarMedia
El Vocero de Puerto Rico

WKAQ TV-2 (NBC / Telemundo)
WAPA TV-4
WORA TV-5 (ABC)
WIPR TV-6 Difusión Pública / Public Television (PBS)
WLII TV-11 (Univision)
HELP MAKE POLITICS1 COMPLETE!! IF YOU KNOW OF A CANDIDATE MISSING FROM OUR LISTS, PLEASE .