PUERTO RICO
Your complete directory of Commonwealth of Puerto Rico candidates for Governor and Congress in the current election cycle ... Puerto Rican political parties ... the official government site ... and Puerto Rican news sources.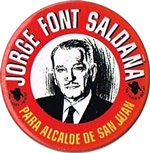 ELECTION CALENDAR:
Filing Deadline: December 2019
Primary: July 12, 2020
CANDIDATE DIRECTORY LEGEND:
Bold = Active Candidate
Italics = Potential Candidate
* = Incumbent
= Winner
(Incumbent Party Listed First)
This page was last updated on May 22, 2020
---
GOVERNOR / GOBERNADOR:
Wanda Vazquez Garced (PNP)* - (Campaign Site)
Iván González Cancel (PNP) - Surgeon & '12 Candidate
Pedro Pierluisi (PNP) - Ex-Resident Commissioner, Ex-Justice Minister, Attorney & '16 Candidate
Eudaldo Báez Rivera (PPD) - Marketing Consultant & Son of Ex-Senator Eudaldo Báez Galib
Eduardo Bhatia (PPD) - Ex-Senate President , Ex-PRFAA Exec Director & Attorney
Charlie Delgado Altieri (PPD) - Isabela Mayor & PPD Vice President
Carmen Yulin Cruz (PPD) - San Juan Mayor & Ex-Representative
Juan Dalmau (PIP) - Senator & Attorney
Alexandra Lúgaro (MVC) - Attorney, Businesswoman & '16 Candidate
Next Gubernatorial Elections in 2020
---
Legislature / Asamblea Legislativa de Puerto Rico:

House of Representatives / Cámara de Representantes
---
U.S. RESIDENT COMMISSIONER:
(Comisionado Residente Washington)

Jenniffer González-Colón (PNP)* - (Campaign Site)
Aníbal Acevedo Vilá (PPD) - Ex-Governor, Ex-Resident Commissioner, Attorney & Ex-PPD President
Luis Roberto Piñero (PIP) - Physician
Zayira Jordán Conde (MVC) - Businesswoman & College Professor
Juan Carlos Albors (I) - Attorney
Zayira Jordan (I) - College Professor & Computer Scientist
Next Resident Commissioner Election in 2020.
---
POLITICAL PARTIES:
MUS - Movimiento Unión Soberanista (Sovereign Union Movement)
MVC - Movimiento Victoria Ciudadana (Citizens Victory Movement)
PIP - Partido Independentista Puertoriqueño (Puerto Rican Independence Party)
PNP - Partido Nuevo Progresista (New Progressive Party)
PPD - Partido Popular Democrático (Popular Democratic Party)
PPT - Partido del Pueblo Trabajador (Working People's Party)
I - Independiente / Independent / No Party

---
National Democratic Party of Puerto Rico / El Partido Democrático de Puerto Rico
National Republican Party of Puerto Rico / El Partido Republicano de Puerto Rico
---
COMMONWEALTH ELECTION OFFICE:
Election Commission / Comisión Estatal de Elecciones de Puerto Rico (CEEPUR)
---
ISLAND NEWS SOURCES:
Elections in Puerto Rico
El Expresso de Puerto Rico
El Nuevo Día - (Política)
Primera Hora
Red Betances (Marxist)
StarMedia
El Vocero de Puerto Rico
VotoInteligente.com

WAPA TV-4
Tu Universo Televisión / TUTV (PBS)
WAPA Radio 680 AM
WKAQ TV-2 (Telemundo)
WLII TV-11 (Univision)
HELP MAKE POLITICS1 COMPLETE!! IF YOU KNOW OF A CANDIDATE MISSING FROM OUR LISTS, PLEASE .