MINNESOTA
Your complete directory of Minnesota candidates for Governor, United State Senator and Congress in the current election cycle ... state political parties ... the official state election office ... and state news sources.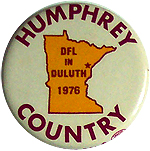 ELECTION CALENDAR:
Filing Deadline: June 2, 2020
Precinct Caucuses: February , 2020
State Conventions: June 2020
Primary: August 11, 2020
CANDIDATE DIRECTORY LEGEND:
Bold = Active Candidate
Italics = Potential Candidate
* = Incumbent
= Winner
(Incumbent Party Listed First)
This page was last updated on September 16, 2019
---
STATE CONSTITUTIONAL OFFICERS:
GOVERNOR:
Tim Walz (DFL)* - (Campaign Site)
Next State Constitutional Officer Elections in 2022.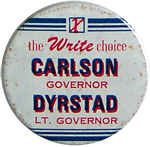 LIEUTENANT GOVERNOR:
Peggy Flanagan (DFL)*
SECRETARY OF STATE:
Steve Simon (DFL)* - (Campaign Site)
ATTORNEY GENERAL:
Keith Ellison (DFL)* - (Campaign Site)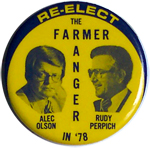 STATE AUDITOR:
Julie Blaha (DFL)* - (Campaign Site)
---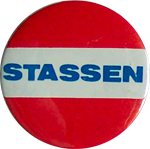 STATE LEGISLATURE:

State House - ( DFL Caucus - Republican Caucus )

State Senate - ( DFL Caucus - Republican Caucus )
---
U.S. SENATOR:
Tina Smith (DFL)* - (Campaign Site)
Alexandra Holker (DFL) - College Reading Coach
Rob Barrett (R) - College Professor, Music Composer & Artist
Forest Hyatt (R) - Paintball Store Owner, GOP Activist & Frequent Candidate
Jason Lewis (R) - Ex-Congressman & Ex-Radio Show Host
Theron Preston Washington (R)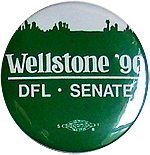 Amy Klobuchar (DFL)* - (Campaign Site) - Next Election in 2024.
---
U.S. CONGRESS:
District 1:
Jim Hagedorn (R)* - (Campaign Site)
Dan Feehan (DFL) - Ex-US Depy Asst Secretary of Defense, Army Veteran & '18 Nominee
Rich Wright (DFL) - Attorney, Army Veteran & Frequent Candidate
Hans Tinsley (I) - Antarctic Program Water Operator & Navy Veteran
District 2:
Angie Craig (DFL)* - (Campaign Site)
John Howe (R) - Ex-State Sen., Ex-Red Wing Mayor & Frequent Candidate
Rick Olson (R)- Ex-Michigan State Rep., Attorney & Retired School Business Manager
Brad Svenson (IP) - Businessman & '18 Candidate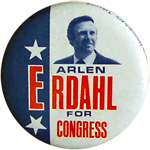 District 3:
Dean Phillips (DFL)* - (Campaign Site)
Kendall Qualls (R) - Healthcare Technology Executive & Army Veteran
District 4:
Betty McCollum (DFL)* - (Campaign Site)
David Sandbeck (DFL) - Network Engineer
Travis Ekbom (R) - Office Manager
District 5:
Ilhan Omar (DFL)* - (Campaign Site)
Bobby Joe Champion (DFL) - State Sen.
Margaret Kelliher (DFL) - Ex-House Speaker, State Transportation Secretary, '18 Candidate & '10 Gov Candidate
Ervan Miller (DFL)
Lacy Johnson (R) - Systems Engineer, Charter School Co-Founder & '18 State Rep Nominee
Danielle Stella (R) - Teacher & GOP Activist
Brent Whaley (R) - Self-Employed & Ex-Auto Sales Manager
Chris Kelley (IP) - Police Officer, Army Veteran & '16 State Sen Candidate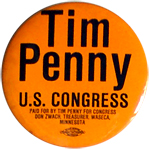 District 6:
Tom Emmer (R)* - (Campaign Site)
Nikolay Bey (R) - Business Consultant & Frequent Candidate
Ian Todd (DFL) - USAF Veteran & '18 Nominee
District 7:
Collin Peterson (DFL)* - (Campaign Site)
Stephen Emery (DFL) - Attorney, Ex-Agricultural Consultant & '18 US Sen Candidate
Jeff Backer (R) - State Rep., Ex-School Board Member, Ex-Browns Valley Mayor & Businessman
Noel Collis (R) - Physician, GOP Activist & '92 Candidate
Michelle Fischbach (R) - Ex-Lt Governor, Ex-State Senate President & Attorney
Dave Hughes (R) - Instructor Pilot, Retired USAF Officer, Aerospace Engineer & '16/'18 Nominee
Joel Novak (R) - Attorney, Retired Army Officer & Iraq War Veteran
Jayesun Sherman (R) - Ex-Windom City Councilman, Teacher, Pastor & '18 Candidate
District 8:
Pete Stauber (R)* - (Campaign Site)
Quinn Nystrom (DFL) - Ex-Baxter City Councilwoman & Diabetes Advocate
Roger Reinert (DFL) - State Rep., Naval Reserve Officer & Afghan War Veteran
---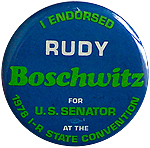 STATE POLITICAL PARTIES:
Communist Party of Minnesota (COM)
Constitution Party of Minnesota (C)
Democratic-Farmer-Labor Party (DFL)
Green Party of Minnesota (G)
Independence Party of Minnesota (IP)
Legal Marijuana Now Party (LMN)
Libertarian Party of Minnesota (L)
Republican Party of Minnesota (R)
---
STATE ELECTION OFFICE:
Secretary of State's Office

Campaign Finance & Public Disclosure Board
---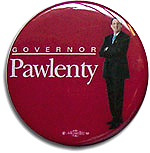 STATE NEWS SOURCES:
Alexandria Echo Press
Austin Daily Herald
Brainerd Daily Dispatch
Checks & Balances
Duluth News-Tribune
Grant County Herald
HometownSource.com (17 East Central Minnesota Community Newspapers)
Mankato Free Press
Minneapolis Star Tribune - (Politics Section)
Minneapolis/St. Paul City Pages (Alternative)
Minnesota Daily (University of Minnesota)
Minnesota Lawyer
Minnesota Spokesman-Recorder (African-American)
MinnPost.com
Morrison County Record
New Ulm Journal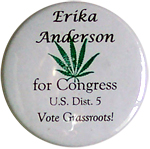 Page 1 Publications (4 Community Newspapers)
Rochester Post-Bulletin
Southwest Journal (Minneapolis)
St. Paul Pioneer Press
Tyler Tribute
West Central Tribune (Willmar)
Winona Daily News

KSTP TV-5 (ABC - Minneapolis)
Minnesota Public Radio
HELP MAKE POLITICS1 COMPLETE!! IF YOU KNOW OF A CANDIDATE MISSING FROM OUR LISTS, PLEASE .