GUAM
Your complete directory of Guam candidates for Governor and Congress in the current election cycle ... territorial political parties ... the official government site ... and Guam news sources.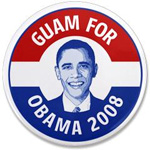 ELECTION CALENDAR:
Filing Deadline: June 28, 2022
Primary: August 27, 2022
CANDIDATE DIRECTORY LEGEND:
Bold = Active Candidate
Italics = Potential Candidate
* = Incumbent
= Winner
(Incumbent Party Listed First)
This page was last updated on August 28, 2022
---
GOVERNOR & LIEUTENANT GOVERNOR:
(Note: Governor and Lt. Governor candidates run on tickets in the primary.)
Lou Leon Guerrero (D)* - (Campaign Site)
& Josh Tenorio (D)* - (Campaign Site)

Felix Camacho (R) - Ex-Governor, Ex-Senator & '16 US Delegate Candidate
& Tony Ada (R) - Senator, Funeral Director & '18 Nominee
Next Gubernatorial Election in 2022.
ATTORNEY GENERAL:
(Note: Attorney General is a Non-Partisan position.)
Leevin Camacho (I)* - (Campaign Site)
Doug Moylan (I) - Ex-Attorney General & Frequent Candidate

---
TERRITORIAL GOVERNMENT:
Official Guam Government Web Site

Guam Legislature
---

U.S. CONGRESSIONAL DELEGATE:
[ Mike San Nicolas (D)* - Lost Primary for Governor in 2022. ]
Judi Won Pat (D) - Ex-Legislature Speaker & Teacher
Jim Moylan (R) - Senator, Insurance Agent, Ex-Parole Officer & Army Veteran
---
POLITICAL PARTIES:
Guam Democratic Party (D)
Guam Republican Party (R)
---
NEWS & INFORMATION:
Guam Daily Post
Guam Pacific Daily News
KGTF TV-12 (PBS)
KUAM TV-8 (NBC)
K-57 AM Radio 570
HELP MAKE POLITICS1 COMPLETE!! IF YOU KNOW OF A CANDIDATE MISSING FROM OUR LISTS, PLEASE .