DISTRICT OF COLUMBIA
Your complete directory of District of Columbia candidates for Mayor, DC Council President, Council-At-Large and Congressional Delegate ... D.C. political parties ... the official D.C. election office ... and daily Washington news sources.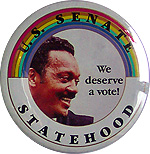 ELECTION CALENDAR:
Filing Deadline (Primary): March 23, 2022
Filing Deadline (General Election): August 10, 2022
Primary: June 21, 2022
CANDIDATE DIRECTORY LEGEND:
Bold = Active Candidate
Italics = Potential Candidate
* = Incumbent
= Winner
(Incumbent Party Listed First)
This page was last updated on June 28, 2022
---
WASHINGTON, D.C. MAYOR:
Muriel Bowser (D)* - (Campaign Site)
Stacia Hall (R) - Interior Designer & Church Activist
Dennis Sobin (L) - Ex-Pornographer, Ex-Sex Club Owner, Felon & Frequent Candidate
James Harris (SWP) - Communist Political Organizer & Frequent Candidate
Rodney "Red" Grant (I) - Comedian, Filmmaker & Community Activist
Barbara Summers (I)
Next Mayoral & Council Chair Elections in 2022.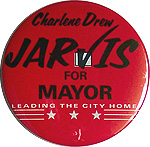 D.C. CITY COUNCIL CHAIR:
Phil Mendelson (D)* - (Campaign Site)
Nate Derenge (R) - Business Analyst & '20 DC Council Nominee
ATTORNEY GENERAL:
[ Karl Racine (D)* - Not Seeking Reelection in 2022. ]
Brian Schwalb (D) - Attorney
---
D.C. CITY COUNCIL AT-LARGE (2 Seats - 2022):
(Note: Each party nominates one candidate apiece; In the General Election, the top two vote-getters win.)
Anita Bonds (D)* - (Campaign Site)
Elissa Silverman (I)*- (Campaign Site)
Giuseppe Niosi (R) - Marine Engineer & Navy Reserve Officer
Fred Hill (I) - Businessman & '20 Candidate
Graham McLaughlin (I) - Health Insurance Executive,Nonprofit Founder & Community Activist
Jennifer Muhammad (I)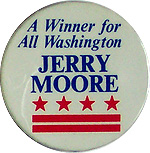 Robert White (D)* - (Campaign Site) - Term Expires in 2024.
Christina Henderson (I)* - (Campaign Site) - Term Expires in 2024.
---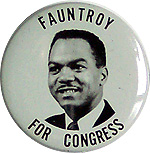 CONGRESSIONAL DELEGATE:
At Large:
Eleanor Holmes Norton (D)* - (Campaign Site)
Nelson Rimensnyder (R) - Retired Congressional Aide & Frequent Candidate
Bruce Majors (L) - Writer, Realtor & Frequent Candidate
Arlene Rubinstein (SWP) - Communist Political Organizer, Journalist & '96 US Sen Candidate
Lino Stracuzzi (SG) - Auto Technician & Frequent Candidate
---
D.C. POLITICAL PARTIES: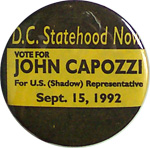 D.C. Democratic Party (D)
D.C. Libertarian Party (L)
D.C. Republican Party (R)
Socialist Workers Party (SWP)
D.C. Statehood Green Party (SG)
Independent (I)
Write-In (WI)
---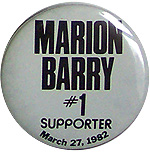 D.C. ELECTION OFFICE:
D.C. Board of Elections & Ethics

DC Office of Campaign Finance
---
D.C. NEWS SOURCES: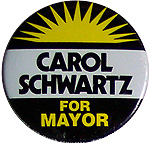 AU Eagle
CUA Tower
DC Indy Media
District Chronicles
Georgetown Hoya
Georgetowner
GW Hatchet
The Hill
Hill Rag / MidCity DC / East of the River
Howard Hilltop
Legal Times
Metro Weekly
Washington Afro American
Washington Blade
Washington City Paper - (DC Politics)
Washington Examiner
Washington Post - (DC Politics)
Washington Times

BROADCAST MEDIA:
WJLA TV-7 (ABC)
WRC TV-4 (NBC)
WTOP Radio AM 1500
WTTG TV-5 (FOX)
WUSA TV-9 (CBS)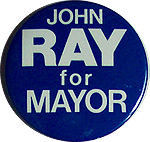 HELP MAKE POLITICS1 COMPLETE!! IF YOU KNOW OF A CANDIDATE MISSING FROM OUR LISTS, PLEASE .