U.S. VIRGIN ISLANDS
Your complete directory of U.S. Virgin Islands candidates for Governor and Congress in the current election cycle ... territorial political parties ... the official government site ... and USVI news sources.
ELECTION CALENDAR:
Filing Deadline (Major Parties): May 8, 2018
Primary: August 4, 2018
Runoff (if needed): November 20, 2018
CANDIDATE DIRECTORY LEGEND:
Bold = Active Candidate
Italics = Potential Candidate
* = Incumbent
= Winner
(Incumbent Party Listed First)
This page was last updated on September 26, 2018
---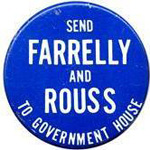 TERRITORIAL CONSTITUTIONAL OFFICERS:
GOVERNOR & LIEUTENANT GOVERNOR:
(Governor & Lt. Governor candidates run together on tickets)
Ken Mapp (I)* - (Campaign Site)
& Osbert Potter (I)* - (Campaign Site)

Albert Bryan Jr. (D) - Ex-USVI Labor Commissioner & Economic Development Consultant
& Tregenza Roach (D) - Senator & Attorney

Soraya Diase-Coffelt (I) - Ex-Territorial Court Judge, Ex-Attorney General & '14 Candidate
& Dwight Nicholson (I) - Engineer & '14 Sen Candidate

Adlah "Foncie" Donastorg (I)- Ex-Senator, Businessman & '06/'10 Candidate
& Alicia "Chucky" Hansen (I) - Senator, Businesswoman & '02 Gov Candidate

Janette Millin Young (I) - Senator, Ex-Magazine Publisher & Ex-Gubernatorial Aide
& Edgar Bengoa (I) - St Croix Chamber of Commerce President & Businessman

Warren Mosler (I) - Hedge Fund Manager, Economist & Frequent Candidate
& Ray Fonseca (I) - Ex-USVI Housing Authority Director

Positive T.A. Nelson (I) - Senator & Accountant
& Gary Udhwani (I) - Restaurant Owner

Moleto Smith Jr. (I) - Health Care Executive, Ex-USVI Human Services Official & '14 Candidate
& Hubert Frederick (I) - Businessman & Auditor
Next Gubernatorial Elections in 2018
---
TERRITORIAL LEGISLATURE:

USVI Legislature
---

U.S. CONGRESSIONAL DELEGATE:
Stacey Plaskett (D)* - (Campaign Site)
---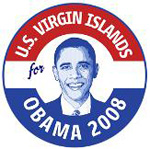 USVI POLITICAL PARTIES:
Virgin Islands Democratic Party
Green Party of the US Virgin Islands
Independent Citizens' Movement (ICM)
Republican Party of the US Virgin Islands
---
LOCAL NEWS SOURCES:
St. Croix Source
St. John Source
St. John Tradewinds News
St. Thomas Source
Vanguard (St. Croix)
V.I. Consortium
Virgin Islands Daily News
WSTA Radio (St. Thomas)
WTJX TV-12 (Public Television - St. Thomas)
HELP MAKE POLITICS1 COMPLETE!! IF YOU KNOW OF A CANDIDATE MISSING FROM OUR LISTS, PLEASE .