U.S. VIRGIN ISLANDS
Your complete directory of U.S. Virgin Islands candidates for Governor and Congress in the current election cycle ... territorial political parties ... the official government site ... and USVI news sources.
LEGEND:
Bold = Active Candidate
Italics = Potential Candidate
* = Incumbent
(Incumbent Party Listed First)
Filing Deadline: July 2014
Primary: August 9, 2014
This page was last updated on April 8, 2014
---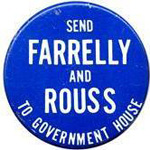 TERRITORIAL CONSTITUTIONAL OFFICERS:
GOVERNOR:
[ John deJongh Jr. (D)* - Term Limited in 2014. ]
Donna Christensen (D) - Congressional Delegate & Physician
Moleto Smith Jr. (D) - Management Consultant & Ex-USVI Human Services Deputy Commissioner
Soraya Diase-Coffelt (Independent) - Ex-Territorial Court Judge, Attorney & Businesswoman
Next Gubernatorial Elections in 2014
LIEUTENANT GOVERNOR:
Gregory Francis (D)*
---
TERRITORIAL LEGISLATURE:

USVI Legislature
---

U.S. CONGRESSIONAL DELEGATE:
[ Donna Christensen (D)* - Candidate for Governor in 2014. ]
Emmett Hansen (D) - Ex-USVI Democratic Chair & Ex-Senator
Shawn-Michael Malone (D) - Senator, Ex-Congressionlal Aide & Ex-Hotel Manager
Stacey Plaskett (D) - Attorney, Ex-Congressional Aide & Community Activist
---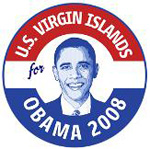 USVI POLITICAL PARTIES:
Virgin Islands Democratic Party
Green Party of the US Virgin Islands
Independent Citizens' Movement (ICM)
Republican Party of the US Virgin Islands
---
LOCAL NEWS SOURCES:
BBC World Service: Caribbean
St. Croix Source
St. John Source
St. John Tradewinds News
St. Thomas Source
St. Thomas-St. John Cable TV
Vanguard (St. Croix)
Virgin Islands Daily News
Virgin Islands Now
V.I. Political Blog
V.I. Times
WSTA Radio (St. Thomas)
WTJX TV-12 (Public Television - St. Thomas)
HELP MAKE POLITICS1 COMPLETE!! IF YOU KNOW OF A CANDIDATE MISSING FROM OUR LISTS, PLEASE .