President of the United States:
BARACK H. OBAMA, JR.
Democrat - Illinois
BARACK OBAMA BIOGRAPHICAL FACTS:
POLITICAL: President of the United States, 2009 - present (elected 2008, reelection 2012). US Senator, Jan 2005 - Nov 2008 (elected 2004).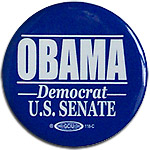 Illinois State Senator, 1997-2005 (elected 1996, 1998, 2002). Candidate for Congress, 2000. Keynote Speaker, 2004 Democratic National Convention.
PROFESSIONAL: Attorney. Author. Senior Lecturer, University of Chicago Law School, 1993-2004. Executive Director, Illinois Project Vote, 1992. Director, Developing Communities Project, 1985-88. Financial Analyst, 1983-84.
EDUCATION: B.A. (Political Science), Columbia University, 1983. J.D. magna cum laude, Harvard Law School, 1991.
PERSONAL: Born August 4, 1961, in Honolulu, Hawaii. Married to Michelle Robinson Obama. Two daughters. United Church of Christ.
---
LINKS: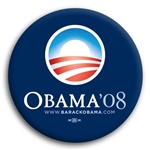 The White House - Government Site.
BarackObama.com - Official Campaign Site.
The White House: Office of First Lady Michelle Obama - Government Site.
Facebook.com/BarackObama - Official Facebook Page
Twitter.com/BarackObama - Official Twitter Page.
Vice President Joe Biden - Politics1's Resource Page
---
THE OBAMA ADMINISTRATION:
The Obama Cabinet - Politics1's Guide to the Obama Administration Cabinet.
---
OFFICIAL CONTACT INFORMATION:
GOVERNMENT:
President Barack Obama
The White House
1600 Pennsylvania Avenue, NW
Washington, DC 20500
202-456-1414
Fax: 202-456-2461
Contact page: Click here.

---
Other Useful Presidential Sites
Internet Public Library: The Presidents of the United States - With pictures and stats, this site contains many of the basic facts to need on any of our past Presidents. Biographies, dates, historic documents and links to related sites on each President.
National Archives: The Presidential Libraries - Several former Presidents (and/or scholars, friends, etc.) established libraries devoted to studies of their respective careers. This National Archives site is a directory to the twelve Presidential libraries. The twelve: Clinton, GHW Bush, Reagan, Carter, Ford, Nixon, LBJ, Kennedy, Eisenhower, Truman, FDR and Hoover.
Atlas of U.S. Presidential Elections - Dave Leip prepared this very informative site, which provides historic voting results from the Presidential general elections of 1860-2008 -- plus results from the Presidential primaries from the few most recent cycles.
VicePresidents.com - Yup, a site dedicated entirely to the history of 46 men who have served as Vice President of the United States. Did you know that 18 of the 46 either died in office or resigned? More trivia, plus bios, pix, etc.
National Archives: US Electoral College - This site, maintained by the National Archives, is the closest thing there is to an "official" site for the Electoral College -- the folks who actually elect the President of the United States. Just remember: Al Gore won 500,000 more votes than George W. Bush in 2000 ... but Bush was elected President because he won more electoral votes (271 versus 267) than Gore.
---